Installation Windows
Download the latest version
Download the latest version from our download page. You can always install the current version over your existing one. Settings will be kept. After downloading, start the installation program. It downloads parts of the current version from the internet and starts the setup procedure.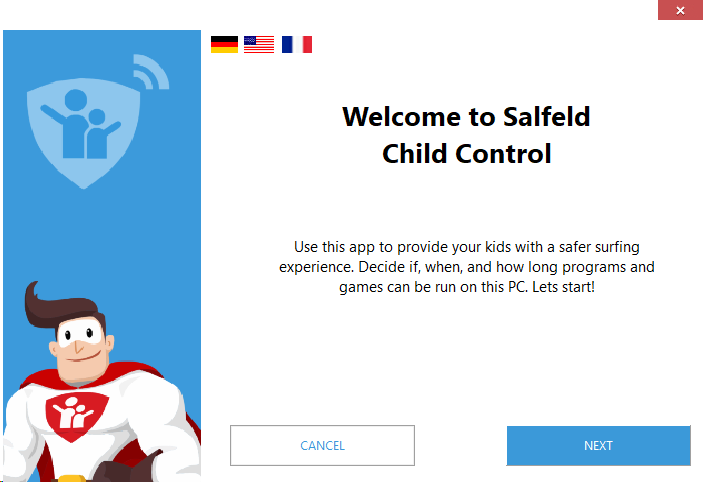 Windows user accounts
Child Control itself seamlessly connects to the Windows user accounts. This makes it possible to define individual time limits, program restrictions or Internet filters for each Windows user. It is also possible to switch off the monitoring completely (e.g. for the parent user account). We recommend that you create a parent user account (with password) on which no restrictions are active. This ensures that you will still be able to operate the PC in all cases.
Entering your (parent) Login E-Mail
At the first start you will be asked to enter an email address for login and a password. The password is required each time you want to change Child Control settings. The password is also needed to uninstall Child Control via the control panel. Please choose a secure password here. The name of your dog is certainly not a great idea :-)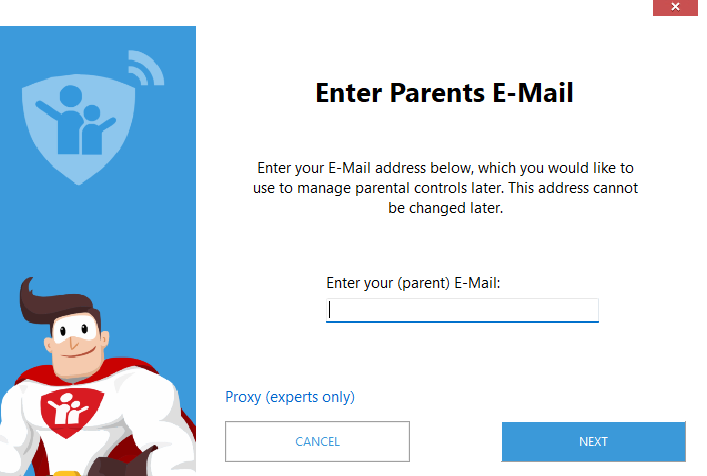 Please check your e-mail address carefully for the login. This cannot be changed later (except by uninstalling and reinstalling). This e-mail address is also required in case of a forgotten password. Therefore, please make sure that you have access to this e-mail account.
Select users for Child Control
The next step is to select the users for whom Child Control should be activated. Please make sure that any parent account in Windows that is not marked here has a password so that the children cannot easily bypass the program. If you miss users in this list, although they were created in Windows, please make sure that you have to log in once with each newly created Windows account.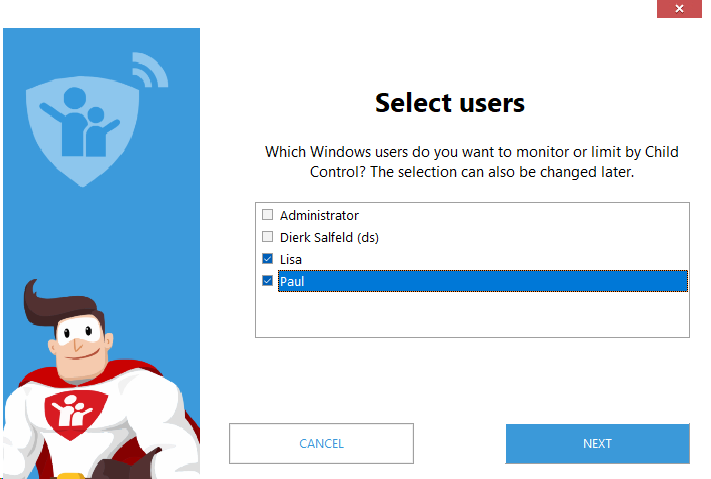 Setup
After the program and the Web Portal have been successfully set up, you can immediately log in to the Web Portal and make settings. You should also see the Child Control icon in the lower right corner of the Windows taskbar. When clicking on it, the currently logged in user will receive information about used times and currently valid limits.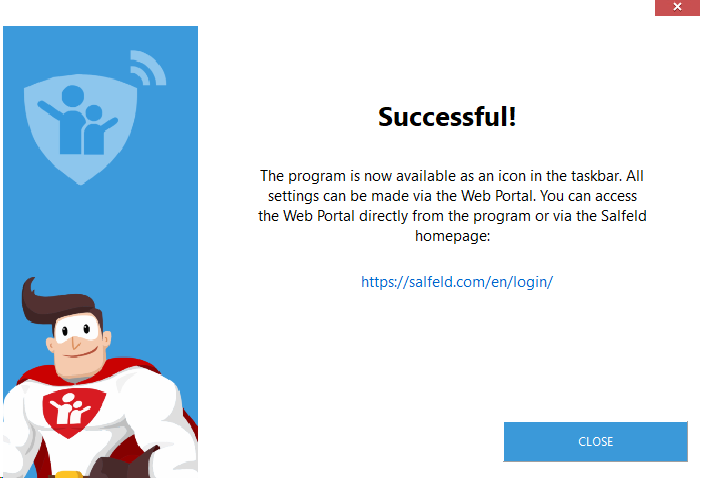 Done!
Child Control is now installed locally on your children's PC. The settings can now be made conveniently via the Web Portal from any browser. The big advantage is obvious: You don't have to bother your children on the PC every time you want to change restrictions. You can now do this conveniently from any Internet end device (office PC, tablet, smartphone etc.). You will always find the login to the web portal on the Salfeld homepage in the login section: https://salfeld.com/en/login/
One more tip: Many browsers offer you to save the password. Do not use this function if your children also have access to the PC and browser with which you have logged on to the Web Portal.