Reports
In this section you will get an overview of how long individual apps/programs and websites have been running as well as a history of started programs and websites. You can also see what happened on the device and whether websites or programs were blocked. Select the drop-down button in the upper right corner to choose a time period or specific day. Click the small arrow on the right side of each entry to set time limits directly for the selected app, block the app completely or assign it to a group.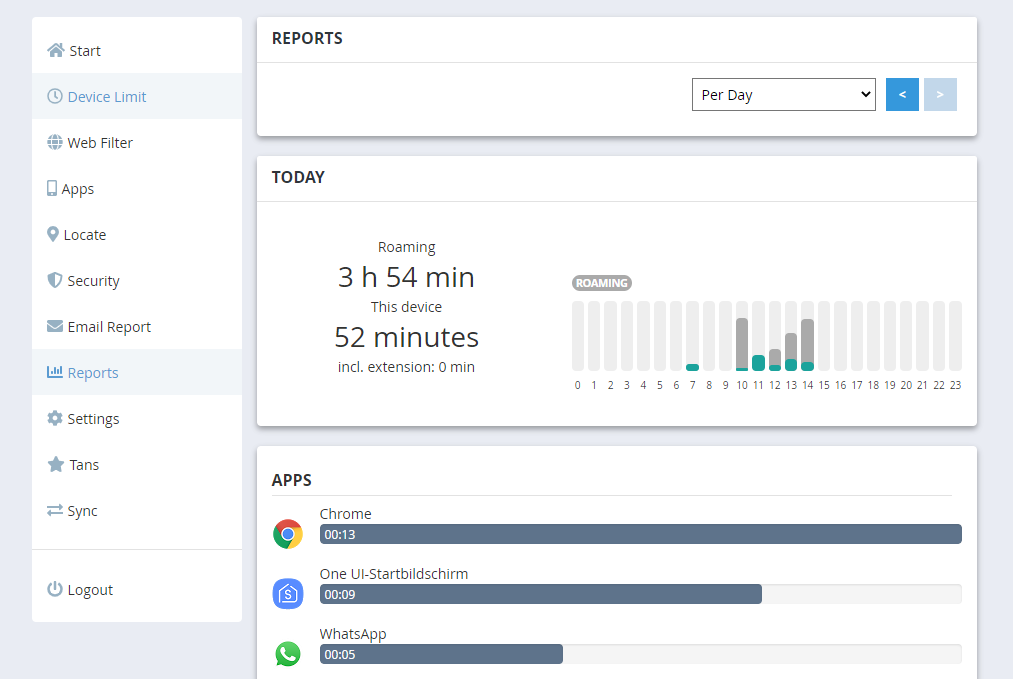 Settings (hide logs and visible buttons)
In the lower area of the logs you have the possibility to deactivate the entire log or to exclude individual areas. For example, you can specify that you only want to be informed about the running times, but not about the web sites history of the child. If the respective option is activated, no more data is transferred from the PC to the Web Portal. Data transferred up to this point is retained. If the recording of an area is deactivated, this data is also not available in the e-mail report in the daily or weekly e-mails.
Extension request visible: The extension request button is available in the app. This allows the child to request additional time. Activate the options in the Email Report or install the Parent App to receive extension requests. A sent release request is automatically deleted after 8 hours.
View reports visible: The Reports button is available on the child device. This also allows the child to view the logs (read only).
View limits visible: The Limits button is available on the child device. This allows the child to view the limits (read only).

Reset times
At the very end of the logs you will find the "Reset times" section. Select the "Delete Times" button to delete all counted times and also all log entries. The data is deleted both in the Web Portal and directly on the child device. This function is especially useful if you do not know exactly why a limit is currently in effect and want to start from "zero".